MANCHESTER, N.H. – Don't expect any expressions of regret from Donald Trump in 2024 − and certainly no apologies.
The former president and 2024 Republican presidential candidate used his Wednesday CNN town hall in New Hampshire to deny and denounce the sexual abuse finding made against him this week, the four criminal investigations of his conduct, and the conduct of the 2020 election that he lost to President Joe Biden.
Trump also said congressional Republicans should be willing to default on the nation's debt rather than give in on the debt ceiling fight, a development that could collapse markets worldwide.
It was a friendly venue; the 400 or so Republican and Republican-leaning voters whom CNN invited to the town hall at Saint Anselm College welcomed him with a standing ovation and often applauded or chuckled at his answers.
Here are the takeaways:
A day after a New York jury found Trump liable for sexual abuse and defamation of Carroll, Trump insisted, "I never met the woman," a denial he is likely to echo throughout the 2024 campaign.
A jury found differently, indicating they agreed with Carroll's testimony that Trump attacked her in a department store encounter in 1996. The jury found Trump liable for sexual abuse and ordered the former president to pay Carroll $5 million in damages.
Trump, who is appealing the verdict, dismissed the idea that the jury finding would hurt him politically, saying "this is a fake story."
Carroll has said her lawsuit was not about politics or money. "This is about getting my name back, and that's what we accomplished," she told NBC News Wednesday on the Today Show.
As Biden and congressional Republicans negotiate an increase in the debt ceiling, Trump said the GOP should insist on major spending cuts before agreeing to a deal – even to the point of a U.S. default.
"If they don't give you massive cuts, you're going to have to do a default," Trump said.
"We might as well do it now," he added, claiming the country would end up in default one way or another.
A U.S. refusal to pay its bills would ripple throughout the global economy, leading to an economic catastrophe that would impact every American − and possibly with ramifications for the 2024 election − economists have said.
Trump refuses to say whether he would support federal abortion ban.
Despite being asked multiple times, Trump refused to say whether he would support a federal abortion ban, instead saying he would make a decision only after he reclaims the White House.
"President Trump is going to make a determination what he thinks is great for the country and what's fair for the country," Trump responded after being asked whether he would sign a federal ban if he was president.
Trump said he was "honored" to have paved the way for Roe v. Wade to be overturned after nominating and confirming hundreds of conservative judges to the federal bench, including three conservative justices to the Supreme Court.
"The fact that I was able to terminate Roe v. Wade after 50 years, they worked for 50 years, I've never seen anything like it," Trump said of the longtime conservative effort to overturn the constitutional right to an abortion. "I was so honored to have done it."
Ukraine or Russia?
Trump refused to say whether he wants Ukraine or Russia to prevail in their military conflict.
He also declined to say whether he would support continuing to send money and military equipment to Ukraine to defend itself against the Russian invasion.
Trump, considered friendly to Russian President Vladimir Putin, only said that he would be able to resolve the conflict in one day if given the chance. He deflected when pressed about whether he wants Ukraine to win the war.
"I don't think in terms of winning and losing," Trump said. "I think in terms of getting it settled."
One viewer, former New Jersey governor and potential 2024 candidate Chris Christie, tweeted that Trump is "Putin's puppet" and added: "Donald Trump says he would end the war in Ukraine in 24 hours tonight on CNN. Despite how ridiculous that is to say, I suspect he would try to do it by turning Ukraine over to Putin and Russia."
'Nasty person'
As he seeks the presidency again, Trump served notice that he will continue to make unfounded claims about a "rigged" election in 2020, despite a lack of credible evidence. When moderator Kaitlan Collins challenged his claims, Trump mostly ignored her.
"The election was not rigged, Mr. President," Collins said at one point.
Trump frequently argued with moderator Collins as she sought to correct his many false statements. Toward the end of the town hall, Trump told Collins: "You are a nasty person."
Jan. 6 pardons?
Trump also expressed no regrets for the insurrection of Jan. 6, 2021, saying the protestors agreed with him that the election was flawed.
While some protestors did act of control, Trump said he would likely pardon most of the Jan. 6 participants if he is elected president.
"I am inclined to pardon many of them," Trump said.
The ex-president also declined to apologize to former Vice President Mike Pence, who said his exhortations to the crowd on Jan. 6 put his life in danger. Trump said Pence should have followed his demand that he act to throw out some of Biden's electoral votes.
Deny, deny, deny
As he has throughout the 2024 campaign, Trump tried to sell voters in New Hampshire on the claim that Democrats are using the legal system to target and defeat him.
He has been indicted in New York over efforts to hide hush money payments to an ex-mistress to keep her story from affecting the 2016 presidential election.
The ex-president is also under criminal investigation over efforts to overturn his 2020 election loss in Georgia, his handling of classified documents since leaving the White House, and any culpability he may have had regarding the Jan. 6 insurrection.
He called these investigations "fake" efforts to stop his presidential candidacy.
Still with Trump
The town hall drew a bevy of Trump supporters who said they will stick their candidate, no matter his many legal problems.
Gilda Stigliano, the 66-year-old realtor from Milford, N.H., who was amidst a crowd of anti-Trump protestors outside the venue, said she approved of Trump's decision to sit down with CNN, despite their differences with the cable news network over the years.
"We're just concerned what CNN might try to do to rip him apart and we're just gonna stand against all that stuff," Stigliano said. "He has a message to get out, no matter the cost."
Nothing, she said, can make her vote against Trump: "We're all sinners. We're all broken. Everyone of us."
Trump protestors gather in New Hampshire
The town hall offered a glimpse of another development that will likely mark the 2024 election: Protestors.
Outside Trump's town hall, hundreds of student protestors gathered outside along with some of their teachers.
Mark Anderson, who joined the group of anti-Trump protestors outside the town hall venue, thought it was unfortunate that CNN gave the former president this kind of platform, given his efforts to overturn the 2020 election and the subsequent investigations.
"It's time for people to just turn their backs on him and disregard him. If everybody did that, he would just disappear," said Anderson, 75, from Concord, carrying a sign that read "Save democracy, stop Trump."
Anderson said Trump "is the greatest threat to our nation."
Carrie Macleod, a professor of nursing at Saint Anselm College, said she was disappointed the school was hosting the former president.
The school is a must stop for any presidential hopeful in the first-in-the-nation primary state. In a statement provided to students and faculty, the college defended hosting the town hall as Trump is the frontrunner and former president despite his controversies.
Macleod, 60, from Windham dismissed that notion, pointing out that a jury found Trump liable for sexual abuse and defamation.
"Most frontrunners," Macleod said, are not in Trump's situation. "The fact that he was allowed back on this campus is deeply disturbing."
Author Profile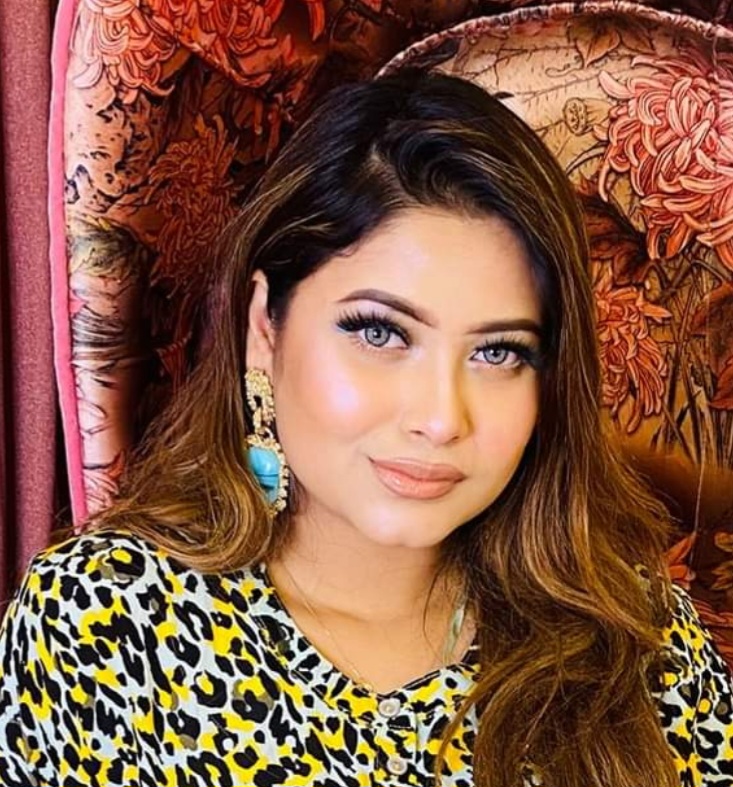 Amreen Rashid Prity With over 04 years of experience in the field of journalism, Amreen Rashid Prity heads the editorial operations of the JK News Live as a Editor and she is also a Blogger.