WASHINGTON – Since becoming law a year and a half ago, President Joe Biden's infrastructure package has led to 32,000 projects announced across 4,500 communities totaling $220 billion in planned spending, according to the White House.
The Biden administration released the updated figures Friday ahead of "Infrastructure Week" − a moment on the calendar that is also Biden's punchline to mock former President Donald Trump's inability to pass a bipartisan infrastructure law when he was in office.
Mitch Landrieu, White House senior advisor and infrastructure coordinator, said the infusion of projects from Biden's $1.2 trillion infrastructure law − including roads, bridges, railway, broadband internet and electric car charging stations − is "arguably bigger than what happened in the New Deal," referring to Franklin D. Roosevelt's signature public works programs in the 1930s.
"And I think it's bigger than what happened during the Eisenhower administration, when they built the highway system, when you accumulate all of it," Landrieu said in a briefing with reporters.
By the numbers
The White House said projects funded or underway − the majority still not completed − since Biden signed the bipartisan infrastructure legislation into law in November 2021 include:
Repairs to 69,000 miles of roadway and 4,600 bridges
Funding for 3,500 clean school and other buses
Construction on 30 major ports and waterways projects
Funding for more than 1,000 airport upgrades including 70 terminal projects, 600 airport infrastructure projects and 400 airport pavement projects
Plans created to plug 10,000 orphan wells (abandoned oil and gas wells)
Construction started on 44 of 49 polluted brownfield projects identified for restoration
$2 billion approved for electric vehicle charger installations across all 50 states
$13.6 billion for Amtrak rail investments out of $66 billion approved in the law for Amtrak
Infrastructure boost hasn't helped Biden's poll numbers
The White House brags that the projects are wildly popular in both blue and red states, and not a single governor, including Republicans, has turned down the opportunity to apply for infrastructure grants.
Biden has made "investing in America" the focus of his economic message, with White House officials taking around 300 trips to highlight infrastructure projects.
Yet there is little evidence that Biden has gotten a boost politically from delivering on infrastructure legislation that had long been discussed − including by his predecessor −but not executed until his signature.
A Reuters/Ipsos poll released Wednesday found only 32% of Americans approve of Biden's handling of economy, compared to 59% who disapprove.
A majority of Americans, 54%, believe Trump has done a better job handling the economy than Biden, 36%, a Washington Post/ABC poll found last week. The poll found Biden's approval rating has dropped to a new low of 36%.
'These things take time': On-site signs to give Biden credit
"These things take time," Landrieu said when asked whether Biden is getting credit for the infrastructure work. He called the infrastructure law a "complete redesign of how American rebuilds itself" that includes spending over 10 years, not overnight.
In addition to the White House trips, large signs with Biden's name and the "Investing in America" slogan are going up at the site of projects.
To underscore the popularity of the projects, Landrieu pointed to the many Republican members of Congress who have showed up at groundbreakings and other infrastructure announcements despite voting against the bill.
"As these things actually come into fruition and human beings actually see them, they will come to know them," Landrieu said of the projects. "And I think at the end of the day, people will know that (Biden) was the president of the United States who actually got this done and made it happen."
Author Profile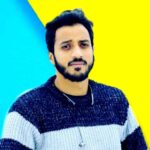 Ehsaan Yousf Kashmir Based Journalist (born on 17 October 1995, in Ganderbal Jammu and Kashmir India).
Ehsaan Yousf Kashmir Based Journalist (born on 17 October 1995, in Ganderbal Jammu and Kashmir India).